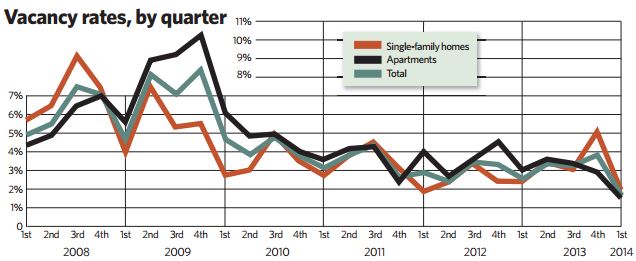 Real estate is a potentially excellent investment, especially if a buyer's timing is right and he selects an ideal location. If all factors come together in their favor, the owner of a rental property can earn enough money right now to make a living and set himself up for retirement. Of course properties in vibrant and growing areas are typically more expensive than ones in economically depressed areas of the so one must take this into consideration while exploring if now is a good time to enter the Treasure Valley rental market.
Choosing a Lucrative Location
So how do you decide on a hot spot for purchase in the Treasure Valley? You go to the National Association of Residential Property Managers (NARPM) for reports on rental performance: available units, prices, and changes in these statistics from quarter to quarter. Or you can go right to that Southwest Idaho chapter and read the charts. In the case of Treasure Valley, they tell a story of popularity and growth.
Idaho Gold
Potatoes are not the only form of gold struck in Idaho, especially not in the aptly named Treasure Valley. Rental properties here are being snapped up faster than you can say French fries. In fact, interest continues to grow so fast that the Southwest Idaho Chapter of the NARPM believes they could be nearing the point where demand for rental properties outpaces properties available to purchase. This is particularly true of single-family homes. It does not matter what size of home: they are all going, going, and nearly gone.
Peak Season
This trend is most pronounced in the spring. Statistics support the notion that trying to find a home or apartment in the Treasure Valley rental market is easier in winter when demand is typically lower.
Either way, demand here is strong for rentals. And why not? The Treasure Valley is situated approximately less than an hour drive from the Boise National Forest and a reasonable driving distance from the beautiful Owyhee mountains in Idaho's southwest corner, so there is plenty to do for active individuals and families all year round.
Should You Buy a Rental Property in Treasure Valley?
Analysis strongly supports the Treasure Valley area as a perfect investment location for someone interested in buying rental property. The numbers do not lie. Growth is steady because the Treasure Valley has whethered the recession well, has a good job market and great sense of community.