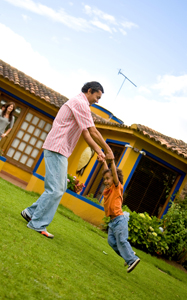 Meridian, Idaho, is now the third-largest city in the state, recently passing both Idaho Falls and Pocatello. Meridian experienced huge growth during the building boom in the early 2000's, and even within the past 5 years the area continues to flourish. If you are new to the area, and want to invest in a rentaly property, Meridian is not a bad place to start. Meridian is arguable the most desirable rental locations in Idaho. When you find the right investment property, look for a meridian property management agent to assist you in getting it filled with a qualified tenant, and for long term property management. You'll be glad you did.
The property market in meridian ranges from old-style homes, to new apartment blocks and condos. Our Meridian property management professionals are familiar with the real estate markets in Meridian, and are a great resource for anyone looking for such property. We understand what it takes to invested in rental property, and we manage it for you in the most efficient manner possible. We have comprehensive real estate management practices which leave you free to concentrate on other aspects of your life. You do not have to worry about the condition of the property, the collection of rents, or the accounting process. We provide you with a full property management package, all at an affordable price.
Real Property Management offers indepth tenant screening processes to ensure that you get the best type of tenants possible. In addition to the the standard checks like rental history, credit status, and income, we can pull background checks and interview previous and current employers. Despite such vetting, occasions may arise, where a tenant is unable to make several payments; our company will follow appropriate legal avenues to ensure that the outstanding amount is recovered, and the tenant has been evicted from the property.
Meridian is a beautiful area for a rental property, we 'll inspect your property periodically and make sure it stays that way, and that all repairs that need to be done are dealt with promptly. You do not have to worry about emergencies since we have staff, on stand-by 24/7.
When investing in property in Meridian, contact our Meridian property management professionals at RPM Boise, and ensure that you get a comfortable return on your investment, for the long-term.
Call 208-287-8222 Today!